Chara vulgaris
Linnaeus

1753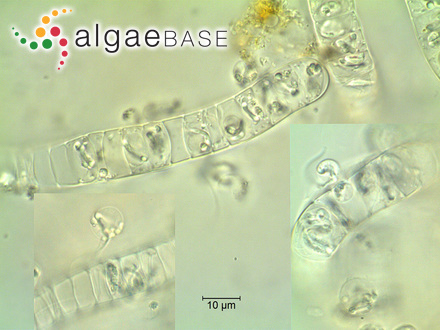 Chara vulgaris Linnaeus Antherzoids emerging from filaments; Yardley Chase, Northamptonshire
© C.F.Carter(chris.carter'at'6cvw.freeuk.com
Publication details
Chara vulgaris Linnaeus 1753: 1156
Published in: Linnaeus, C. (1753). Species plantarum, exhibentes plantas rite cognitas, ad genera relatas, cum differentiis specificis, nominibus trivialibus, synonymis selectis, locis natalibus, secundum systema sexuale digestas. Vol. 2 pp. [i], 561-1200, [1-30, index], [i, err.]. Holmiae [Stockholm]: Impensis Laurentii Salvii.


Download PDF
Publication date: 1 May 1753
Original description:

Download PDF
Type species
This is the type species (lectotype) of the genus Chara.
Status of name
This name is of an entity that is currently accepted taxonomically.
Type information
Type locality: "Habitat in Europeae...". [Europe] (Linnaeus 1753: 1156). Lectotype: LINN 1088.3 (Wood 1960: 220). Notes: Syntype: LINN 1088.2
Infrageneric classification
Subgenus Chara Section Chara
Origin of species name
Adjective (Latin), common, general, ordinary (Stearn 1973).
Homotypic Synonym(s)
Chara vulgaris var. vulgaris (Linnaeus) R.D.Wood 1962

Heterotypic Synonym(s)
Chara elongata K.Wallroth
Chara magellanica A.Braun
Chara batrachosperma Thuillier 1799
Chara montana Schleicher ex C.H.Persoon 1807
Chara vulgaris var. montana (Schleicher ex C.H.Persoon) De Candolle 1815
Chara crassicaulis Schleicher 1821
Nitella batrachosperma C.Agardh 1824
Chara longibracteata Kützing 1832
Chara foetida A.Braun 1834
Chara refracta Kützing 1834
Nitella tenuissima var. batrachosperma (J.L.Thuillier) Kützing 1845
Chara polysperma Kützing 1845
Chara pleiospora U.Ganterer 1847
Chara tenuissima var. batrachosperma (Thuillier) Ganterer 1847
Chara sphagnoides J.Wallman 1853
Chara foetida var. steudneri A,Braun nom.nudum 1867
Chara foetida f. subinermis A.Braun 1868
Chara boveana A.Braun 1868
Chara tholeyroniana M.Gandoger 1875
Chara foetida f. normalis Migula 1894
Chara vulgaris var. subinermis W.Migula 1897
Chara foetida var. gallocantae Reyes y Prósper 1910
Chara foetida f. typica Reyes y Prósper 1910
Chara vulgaris var. refracta (Kützing) J.Groves & Bullock-Webster 1924
Chara foetida f. submacrophylla N.Filarszky 1927
Chara foetida f. flagellifolia N.Filarszky 1930
Chara foetida f. heteroverticillata N.Filarszky 1930
Chara foetida f. incurvata N.Filarszky 1930
Chara foetida f. diversifolia N.Filarszky 1931
Chara foetida f. flexilis N.Filarszky 1931
Chara foetida f. rivalis N.Filarszky 1931
Chara foetida f. rosariifolia N.Filarszky 1931
Chara foetida f. seminuda N.Filarszky 1931
Chara foetida f. thermalis N.Filarszky 1931
Chara foetida f. crassibracteata N.Filarszky 1931
Chara foetida f. longiarticulata H.Filarszky 1931
Chara foetida f. submucronata N.Filarszky 1931
Chara foetida f. pseudopygmaea N.Filarszky 1932
Chara foetida f. capitata (Wahlstedt) N.Filarszky 1932
Chara foetida f. compacta N.Filarszky 1932
Chara foetida f. crassior N.Filarszky 1932
Chara foetida f. virescens N.Filarszky 1932
Chara foetida f. mikrostephana N.Filarszky 1932
Chara foetida f. recurvata N.Filarszky 1936
Chara vulgaris subsp. eu-vulgaris J.S.Zaneveld 1940
Chara vulgaris var. aequibracteata Y.Y.Li 1985

Habitat notes
Eutrophication and decrease in the number of suitable habitats as e.g. small water bodies which are drained or filled in. - (26 Jun 2011) - M.D. Guiry
Usage notes
Potential application as pesticide; showed some repellent activity against Culex pipiens pallens (Zhang et al. 2010). - (17 May 2010) - G.M. Guiry
General environment
This is a freshwater species.
Common names
(as Chara vulgaris Linnaeus)
Norwegian: Stinkkrans (Langangen 2021).
Description
The plants are from 10 to 50 cm high, axis is from 0.5 to 1 mm in diameter, moderately to heavily encrusted, often grey to dark green in colour. The branchlets are 7-9, each with 6-8 segments, of which 2-3 often are ecorticated. The stem cortex is diplostichous and aulacanthous (fig. 6). The spine cells are always solitary, from papillous to as long as the axis diameter (f. papillata). The species is monoecious. The gametangia are conjoined at the 3-4 lowest branchlet nodes. The oogonium is to 900 µm long. The oospores are normally brown, but is black in one of the varieties. The antheridium is up to 500 µm in diameter. Chara vulgaris is a highly polymorphic species, and many forms and varieties have been described.
Habitat
Chara vulgaris is a freshwater species but has also been found in slightly brackish water. The species is found in a large spectre of habitats, ponds, puddles, ditches, rivers, littoral pools and periodical waters. Very few finds are from lakes. It is found both in soft and alkaline water and it grows down to 1 m. Both annual and perennial forms occur. Plants surviving the winter will often give rise to new shoots the next year. Chara vulgaris is often richly fertile.
Detailed distribution with sources (Click to Load)

Detailed conservation status with sources
(as Chara vulgaris Linnaeus)
Vulnerable: (Langangen 2021)

Key references
Ahmadi, A., Sheidai, A.M., H. Riahi, H. & Van Raam, J.C. (2012). Some Charophytes (Characeae, Charophyta) from central and western of Iran including Chara kohrangiana species nova. Cryptogamie Algologie 33(4): 359-390. [in English]
Arbeitsgruppe Armleuchteralgen Deutschland (Becker, R., Blindow, I., Doege, A., Franke, T., Gregor, T., Hamann, U., Jäger, D., Jorda, C., Kabus, T., Korsch, H., Korte, E., Kusber, W.-H., Pätzold, Raabe, U., Schubert, H., Teppke, M., van der Weyer K., Wolff, P.) (2015 '2016'). Beschreibung der Characeen-Arten Deutschlands. In: Armleuchteralgen. Die Characeen Deutschlands. (Arbeitsgruppe Characeen Deutschlands Lehrstuhl für Ökologie der Universität Rostock Eds), pp. 209-572. Berlin & Heidelberg: Springer-Verlag.
Auderset, J.D. & Rey-Boissezon, A. (2013). Les Characées de Genève et environs. Distribution et Ecologie. Rapport projet de recherche DGNP-UNIGE Groupe d'Ecologie aqua-tique, Institut Forel et Institut des Sciences l'Environnement, Université de Genève. pp. [i-vii], 1-95, numerous photographs, figures and maps. Genève: Direction Générale de la Nature et du Paysage Rue des Battoirs 7 1205 Genève.
Bazzichelli, G. & Abdelahad, N. (2009). Alghe d'acqua dolce d'Italia. Flora analitica delle Caroficee. pp. [i-viii], [1]-73, [Index]. Roma: Sapienza, Università di Roma.
Bryant, J.A. & Stewart, N.F. (2011). Phylum Chlorophyta. Order Charales. In: The freshwater algal flora of the British Isles. An identification guide to freshwater and terrestrial algae. Second edition. (John, D.M., Whitton, B.A. & Brook, A.J. Eds), pp. 742-765. Cambridge: Cambridge University Press.
Caisová, L. & Gabka, M. (2009). Charophytes (Characeae, Charophyta) in the Czech Republic: taxonomy, autecology and distribution. Fottea 9(1): 1-43.
Gregor, T., Raabe, U. & Van Raam, J. (2012). Typification of Nitella gracilis (Sm.) C.Agardh var. confervacea Brébisson (= N. confervacea (Brébisson) A. Braun ex Leonhardi) with remarks on its nomenclatural history. Cryptogamie Algologie 33(4): 391-398.
Hu, H. & Wei, Y. (2006). The freshwater algae of China. Systematics, taxonomy and ecology. pp. [4 pls of 16 figs], [i-iv], i-xv, 1-1023. China: www.sciencep.com.
Hy, F. (1913). Les Characées de France. Bulletin de la Société Botanique de France 60 (Mémoires 26): 1-47, pls. I-III.
Langangen, A. (2007). Charophytes of the Nordic countries. pp. [1]-102, many figs and maps. Oslo: Saeculum ANS.
Muller, S, D., Rhazi, L. & Soulie-Märsche, I. (2017). Diversity and distribution of Characeae in the Maghreb (Algeria, Morocco, Tunisia). Crytogamie Algologie 38(3): 201-251.
Ruprecht, F.J. (1846). Symbolae ad historiam et geographiam plantarum Rossicarum. pp. [1]-242, 6 pls. Petropoli [St Petersburg]: typis et impensis academinae imperialis scientiarum.
Saber, A.A, Gontcharov, A.A., Nikulin, A.Y., Nikulin, V.Y., Rayan, W.A. & Cantonati, M. (2021). Integrative taxonomic, ecological and genotyping study of charophyte populations from the Egyptian Western-Desert oases and Sinai Peninsula. Plants 10(1157): 1-32, 13 figs, 2 tables.
Schneider, S.C., Rodrigues, A., Moe, T.F. & Ballot, A. (2015). DNA barcoding the genus Chara: molecular evidence recovers fewer taxa than the classical morphological approach. Journal of Phycology 51(2): 367-380.
Spencer, M.A., Irvine, L.M. & Jarvis, C.E. (2009). Typification of Linnaean names relevant to algal nomenclature. Taxon 58(1): 237-260.
Thuillier, J.L. (Ann VII [1799]). Flore des environs de Paris, ou, Distribution méthodique des plantes qui y croissent naturellement, Faite d'après le systême de Linnée: avec le nom et la description de chacune et latin et in françoise; l'indications de leur lieu natal, de leur durée, du temps de leur florasion, de la coluleur de leurs fleurs, et al citation de Auteurs qui les ont le mieux décrites ou en ont donées les meilleures figures. Nouvelle édition: revuew corrigée et considérablement augumentée [éd. 2]. pp. 1-595. Paris: Chez l'Auteur et H.L. Perronneau.
Urbaniak, J. & Gabka, M. (2014). Polish Charophytes. An illustrated guide to identification. pp. [1]-120, incl. 34 pls. Wroclaw: Uniwersytet Przyrodniczy we Wroclawiu.
Villac, M.C., Kaczmarska, I. & Ehrman, J.M. (2016). Diatoms from ship ballast sediments (with consideration of a few additional species of special interest). Diatom Monographs 18: [1]-557, 235 pls.
Wallroth, K.F.G. (1815). Annus botanicus, sive supplementum tertium ad Curti Sprengelii floram halensem. pp. [i]-xxx, [1]-194, pls I-VI. Halae [Halle]: sumptibus Car. Aug. Kümmelii.
Watterlot, A. & Prey, T. (2016). Inventaire des Characées sur le territoire picard (Aisne, Oise et Somme): Évaluation patrimoniale. Version No. 2, décembre 2016. pp. [1]-30, Annexe, 31-56 [Maps]. Bailleul: Centre régional de phytosociologie. Conservatoire botanique national de Bailleul.
Willdenow, C.L. (1805). Du genre nommé Chara. Mémoires de L'Académie Royale des Sciences et Belles-Lettres depuis L'Avénement de Fréderic Guillaume III au Trône 1805: 79-90, pls I, II.
Zhang, M., Xie, S., Han, X., He, Y., Feng, J. & Shi, Y. (2010). Volatile constituents of charophytes as oviposition deterrents of Culex pipiens pallens (Diptera: Culicidae). Journal of Phycology 46(2): 390-395.
Created: 11 April 2002 by M.D. Guiry
Verified by: 29 June 2021 by M.D. Guiry
Accesses: This record has been accessed by users 15072 times since it was created.
Verification of data
Users are responsible for verifying the accuracy of information before use, as noted on the website Content page.
References
(Please note: only references with the binomials in the title are included. The information is from the Literature database.)
Drew, K.M. (1924). An abnormal pro-embryonic branch of Chara vulgaris, L.. Annals of Botany 38: 207-209.
Grant, M.C. & Proctor, V.W. (1971). Chara vulgaris and C. contraria: Patterns of reproductive isolation for two cosmopolitan species complexes. Evolution. 26(2): 267-281.
Kwiatkowska, M. & Maszewski, J. (1986). Changes in the occurrence and ultrastructure of plasmodesmata in antheridia of Chara vulgaris L. during different stages of spermatogenesis. Protoplasma 132: 179-188.
Kwiatkowska, M. & Maszewski, J. (1987). Cell sizes and DNA level in antheridial filaments in relation to the initiation of spermatozoid differentiation in Chara vulgaris L.. Folia Histochemica et Cytobiologia 24: 79-90.
Kwiatkowska, M. (1988). Symplasmic isolation of Chara vulgaris antheridium and mechanisms regulating the process of spermatogenesis. Protoplasma 142: 137-146.
Kwiatkowska, M. (1991). Light effects on DNA and protein synthesis in generative and non-generative cells of the antheridium of Chara vulgaris (Charophyta). Phycologia 30: 124-134, 17 figs.
Kwiatkowska, M., Poplonska, K. & Zylinska, K. (1990). Biological role of endoreplication in the process of spermatogenesis in Chara vulgaris L. Protoplasma 155: 176-187.
Marquardt, R. & Schubert, H. (2009). Photosynthetic characterization of Chara vulgaris in bioremediation ponds. Charophytes 2(1): 1-8.
Maszewski, J. (1977). Infleunce of the light factor on the course of the cell cycle in the successive generations of the antheridial filaments of Chara vulgaris L.. Acta Societatis Botanicorum Poloniae 66: 31-45.
Maszewski, J. (1981). Synthesis of nucleic acids and proteins after dark-induced blocking of mitotic divisions in antheridial filaments of Chara vulgaris L.. Folia Histochemica et Cytochemica 19: 55-62.
Michaux-Ferrière, N. & Soulié-Märsche, I. (1987). The quantities of DNA in the vegetative nuclei of Chara vulgaris and Tolypella glomerata (Charophyta). Phycologia 26: 435-442.
Olszewska, M.J., Gernand, D., Godlewski, M. & Kunachowicz, A. (1997). DNA methylation during antheridial filament development and spermiogenesis in Chara vulgaris (Charophyceae) analysed by in situ nick-translation driven by methylation-sensitive restriction enzymes. European Journal of Phycology 32: 287-291, 4 figs.
Poplonska, K., Kwiatkowska, M., Stepinski, D., Gosek, A. & Wojtczak, A. (2004). Immunocytochemical localisation of ubiquitin and proteasomes in spermatids during spermiogenesis of Chara vulgaris (Charophyceae). European Journal of Phycology 39: 309-316.
Robert, D. (1979). Localisation cytochimique en microscopie électronique, des constituants nucléaires au cours de la spermiogenèse chez le Chara vulgaris. Annales des Sciences Naturelles, Botanique 1: 67-80.
Sanjuan, J., Vicente, A., Flor-Arnau, N., Monleón, T., Cambra, J. & Martín-Closas, C. (2017). Effects of light and temperature on Chara vulgaris (Charophyceae) gyrogonite productivity and polymorphism - palaeoenvironmenta implications. Phycologia 56(2): 204-212.
Wojtczak, A. (2018). Brg1 subunit of chromatin remodelling complex is present during Chara vulgaris (Charophyceae) spermatogenesis. European Journal of Phycology 53(4): 549-558.

Linking to this page: http://admin.algaebase.org/search/species/detail/?species_id=27184
Citing AlgaeBase
Cite this record as:
M.D. Guiry in Guiry, M.D. & Guiry, G.M. 2022. AlgaeBase. World-wide electronic publication, National University of Ireland, Galway. http://www.algaebase.org; searched on 07 July 2022.