Chara aspera Willdenow 1809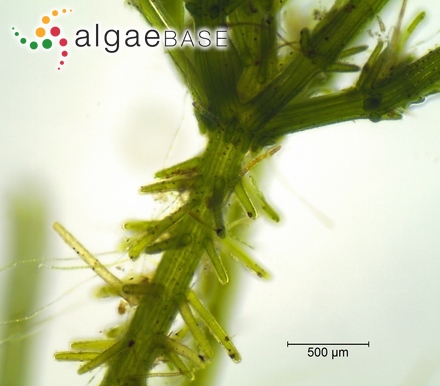 Chara aspera Willdenow Node showing spine cells and cortex. Collected by Claudia Ferguson-Smyth, Isle of Lewis, Scotland
© C.F. Carter (Chris.carter'at'6cvw.freeuk.com
Publication details
Chara aspera Willdenow 1809: 298
Published in: Willdenow, C.L. (1809). Fünf neue Pflanzen Deutschlands. Magazin für die Neuesten Entdeckungen in der Gesammten Naturkunde 3: 296-299.


Download PDF
Original description:

Download PDF
Type species
The type species (lectotype) of the genus Chara is Chara vulgaris Linnaeus.
Status of name
This name is of an entity that is currently accepted taxonomically.
Type information
Type locality: "Wächst in einem etwas salzigen See an den Ufern der Ostsee bei Warnemünde." [Growing in a salt lake on the shores of the Baltic Sea near Warnemünde][Warnemünd, Mecklenburg, Germany} (Willdenow 1809: 299). Lectotype: B W17100-010 (Wood & Imahori 1965: 203).
Infrageneric classification
Subgenus Chara Section Grovesia
Origin of species name
rough, uneven, harsh, rugged.
Homotypic Synonym(s)
Chara globularis var. aspera (Detharding ex Willdenow) R.D.Wood 1962

Heterotypic Synonym(s)
Chara delicatula Desvaux 1810
Chara aspera var. capillacea C.J.Hartman 1820
Chara fallax C.Agardh 1824
Chara pulchella var. delicatula (Desvaux) Wallroth 1833
Chara pulchella var. aspera (C.L.Willdenow) K.F.Wallroth 1833
Chara pusilla G.Detharding ex Kützing 1834
Chara aspera var. marina Kützing 1849
Chara aspera var. stagnalis J.Wallman 1853
Chara aspera var. aculeolata J.Wallman 1853
Chara aspera f. capillata A.Braun 1867
Chara aspera f. longispina Wahlstedt 1875
Chara aspera var. lacustris H.Groves & J.Groves 1880
Chara aspera var. nitidula A.Braun 1882
Chara aspera f. condensata W.Migula 1896
Chara aspera f. brachyphylla A.Braun ex W.Migula 1897
Chara aspera f. brevispina W.Migula 1897
Chara aspera f. occulta Leiner 1897
Chara aspera f. macrostephana W.Migula 1897
Chara aspera f. vulgaris W.Migula 1897
Chara aspera f. typica Reyes y Prósper 1910
Chara asperula Thuret ex F.Hy 1913
Chara aspera f. brevifolia J.Vilhelm 1923
Chara aspera var. nudibasis Trabut ex R.Maire & R.G.Werner 1934

Nomenclatural notes
See Blümel (2004) regarding the citation of the nomenclatural authorities and the type.
Deth. ex Willd. (Muller et al., 2017). - (13 Oct 2017) - G.M. Guiry
Taxonomic notes
According to Schneider et al. (2015), no differences were recovered in AFLP fingerprints among varieties of C. aspera that morphologically differ with respect to number and length of spine cells. - (9 Jun 2015) - G.M. Guiry
Distributional notes
Chara aspera has its main distribution range in Europe, but it is also found in Turkey, Bangladesh, North Africa and North America (Corillion 1957). In the Nordic countries the species has been fond in Sweden (Hasslow 1931, Blindow & Langangen 1995, Blindow 2000), Denmark (Olsen 1944, Kristiansen 1978), Finland (Langangen et al. 2002) and Norway (Langangen 1974, 2007). As can be seen from the map, Chara aspera has also been found on Shetland, Orkney, Hebrides and in Scotland (Moore 1986). - (29 Dec 2009) -
Conservational notes
Redlisting and status: Norway NT. In Norway all the finds in North Norway are recent, after 1990. In South Norway most finds are also recent, but in many old localities the species has disappeared. The brackish water form is rare in Norway, and is only found in a small number (<5) of localities along the southeast coast. In Sweden C. aspera has been found in c. 150 localities in freshwater (Blindow 2000), and is common in the Baltic Sea. In Finland the species is common along the coast (Langangen et al. 2002). In freshwater the species is rare, and only found in few localities in southern parts and in one locality in North Finland. The situation in Denmark a decline is reported in the occurrence of this species (Schubert & Blindow 2003). Proposed red list status for the whole area is LC (least concern). - (29 Dec 2009) -
General environment
This is a marine/freshwater species.
Common names
(as Chara aspera Willdenow)
English: Rough Stonewort (Stewart & Church 1992).
Norwegian: Bustkrans (Langangen 2021).
Swedish: Borststräfse (Tolstoy & Österlund 2003).
Description
The plants are 5-30 cm long in brackish water (f. marinae Wahlstedt) and 5-10 cm long in freshwater (f. stagnalis Wahlstedt). The freshwater form is commonly encrusted and grey in colour, while the brackish water form is only slightly encrusted or unencrusted and green. The branchlets are 8-9, each with 6-8 segments. The stem cortex is triplostichous, isostichous to tylacanthous. The spine cells are solitary, acute, often as long as the stem diameter. The density of the spine cells varies much, from dense to scattered. The variations in the spine-cell structure have given rise to description of many varieties and forms (Migula 1897, Corillion 1957). The stipulodes are developed in both rows, the cells in the upper row are longer than in the lower row. The bract cells are 5. The bracteoles are longer than the oogonium. The plant is dioecious. The gametangia are at the 2-3 lowest branchlet nodes. The oogonium is solitary and up to 800 µm long. The oospores are black and up to 700 µm long. The antheridia are red and up to 600 µm in diameter. Spherical, whitish bulbils up to 1 mm in diameter are common. Chara aspera f. subinermis Kützing The plants are up to 12-13 cm long. The spine cells are short, nearly papillous. The bract-cells are also short. This form has been found along the coasts of the Baltic Sea. In sterile state is this form difficult to separate from Chara globularis.
Habitat
Chara aspera is found in both freshwater and brackish water. In brackish water the species tolerate salinity between 3 and 15 PSU. It is common in the Baltic Sea, on exposed and sheltered places. It grows down to 4-5 m dept, on mud or sand bottom. In freshwater C. aspera is found in calcareous waters, Chara-lakes, humic Chara-lakes and Potamogeton-lakes. Chara aspera is most commonly annual, and hibernation is by bulbils and oospores. Perennial forms are also found, and here the whole plant or part of it survive, and give rise to new shoots next spring. In addition they have oospores and bulbils. Fertile plants are found from June. Fructification is low in freshwater. Ripe oospores are found from July.
Key characteristics
Triplostichous cortex, Dioecious. Spine-cells developed, solitary, usually long. Round, white bulbils on the rhizoides.
Similar species
Chara curta
Detailed distribution with sources (Click to Load)

Detailed conservation status with sources
(as Chara aspera Willdenow)
Data Deficient: (Stewart & Church 1992), (Near Threatened: (Langangen 2021)


Key references
Arbeitsgruppe Armleuchteralgen Deutschland (Becker, R., Blindow, I., Doege, A., Franke, T., Gregor, T., Hamann, U., Jäger, D., Jorda, C., Kabus, T., Korsch, H., Korte, E., Kusber, W.-H., Pätzold, Raabe, U., Schubert, H., Teppke, M., van der Weyer K., Wolff, P.) (2015 '2016'). Beschreibung der Characeen-Arten Deutschlands. In: Armleuchteralgen. Die Characeen Deutschlands. (Arbeitsgruppe Characeen Deutschlands Lehrstuhl für Ökologie der Universität Rostock Eds), pp. 209-572. Berlin & Heidelberg: Springer-Verlag.
Auderset, J.D. & Rey-Boissezon, A. (2013). Les Characées de Genève et environs. Distribution et Ecologie. Rapport projet de recherche DGNP-UNIGE Groupe d'Ecologie aqua-tique, Institut Forel et Institut des Sciences l'Environnement, Université de Genève. pp. [i-vii], 1-95, numerous photographs, figures and maps. Genève: Direction Générale de la Nature et du Paysage Rue des Battoirs 7 1205 Genève.
Blümer, C. (2004). Taxonomy and nomenclature. In: Charophytes of the Baltic Sea. (Schubert, H & Blindow, I. Eds), pp. 261-284.
Borisova, O.V. (2015 '2014'). Charales. In: Algae of Ukraine: diversity, nomenclature, taxonomy, ecology and geography. Volume 4: Charophyta. (Tsarenko, P.M., Wasser, S.P. & Nevo, E. Eds), pp. 454-465. Ruggell: Koeltz Scientific Books.
Bryant, J.A. & Stewart, N.F. (2002). Order Charales. In: The Freshwater Algal Flora of the British Isles. An identification guide to freshwater and terrestrial algae. (John, D.M., Whitton, B.A. & Brook, A.J. Eds), pp. 593-612. Cambridge: Cambridge University Press.
Cambra Sánchez, J., Álvarez Cobelas, M. & Aboal Sanjurjo, M. (1998). Lista florística y bibliográfica de los clorófitos (Chlorophyta) de la Península Ibérica, Islas Baleares e Islas Canarias. pp. 1-614. Burgos: Asociación Española de Limnología.
Cirujano, S, Cambra, J., Sánchez Castillo, P.M., Meco, A. & Flor Arnau, N. (2008). Flora ibérica algas continentales. Carófitos (Characeae). pp. [1]-132, 125 figs. Madrid: Real Jardín Botánico.
Hy, F. (1913). Les Characées de France. Bulletin de la Société Botanique de France 60 (Mémoires 26): 1-47, pls. I-III.
Langangen, A. (2007). Charophytes of the Nordic countries. pp. [1]-102, many figs and maps. Oslo: Saeculum ANS.
Mathieson, A.C. & Dawes, C.J. (2017). Seaweeds of the Northwest Atlantic. pp. [i]-x, 1-798, 109 pls. Amherst & Boston: University of Massachusetts Press.
Moore, J.A. (1986). Charophytes of Great Britain and Ireland. B.S.B.I. Handbook No. 5. Illustrated by Margaret Tebbs. Distribution maps prepared by Dorothy Green. pp. [i-ii], 1-140, 26 figs, 17 maps. London: Botanical Society of the British Isles.
Muller, S, D., Rhazi, L. & Soulie-Märsche, I. (2017). Diversity and distribution of Characeae in the Maghreb (Algeria, Morocco, Tunisia). Crytogamie Algologie 38(3): 201-251.
Saber, A.A, Gontcharov, A.A., Nikulin, A.Y., Nikulin, V.Y., Rayan, W.A. & Cantonati, M. (2021). Integrative taxonomic, ecological and genotyping study of charophyte populations from the Egyptian Western-Desert oases and Sinai Peninsula. Plants 10(1157): 1-32, 13 figs, 2 tables.
Schneider, S.C., Rodrigues, A., Moe, T.F. & Ballot, A. (2015). DNA barcoding the genus Chara: molecular evidence recovers fewer taxa than the classical morphological approach. Journal of Phycology 51(2): 367-380.
Urbaniak, J. & Gabka, M. (2014). Polish Charophytes. An illustrated guide to identification. pp. [1]-120, incl. 34 pls. Wroclaw: Uniwersytet Przyrodniczy we Wroclawiu.
Wallroth, K.F.G. (1815). Annus botanicus, sive supplementum tertium ad Curti Sprengelii floram halensem. pp. [i]-xxx, [1]-194, pls I-VI. Halae [Halle]: sumptibus Car. Aug. Kümmelii.
Watterlot, A. & Prey, T. (2016). Inventaire des Characées sur le territoire picard (Aisne, Oise et Somme): Évaluation patrimoniale. Version No. 2, décembre 2016. pp. [1]-30, Annexe, 31-56 [Maps]. Bailleul: Centre régional de phytosociologie. Conservatoire botanique national de Bailleul.
Created: 11 April 2002 by M.D. Guiry
Verified by: 29 June 2021 by M.D. Guiry
Accesses: This record has been accessed by users 5219 times since it was created.
Verification of data
Users are responsible for verifying the accuracy of information before use, as noted on the website Content page.
References
(Please note: only references with the binomials in the title are included. The information is from the Literature database.)
Croy, C.D. (1982). Chara aspera (Charophyta): breeding pattern in the northern hemisphere. Phycologia 21: 243-246, 1 fig, 1 table.
Flor-Arnau, N., Reverter, F. Soulié-Märsche, I. & Cambra, J. (2006). Morphological differentiation of Chara aspera Detharding ex Willdenow and Chara galioides De Candolle under different environmental variables. Cryptogamie, Algologie 27(4): 435-449.
Flor-Arnau, N., Reverter, F., Soulié-Märsche, I., & Cambra, J. (2005). Diferenciación morfológica de Chara aspera Detharding ex Willdenow y Chara gallioides De Candolle bajo diferentes condiciones ambientales. Algas 34: 15.
Nyberg, H. & Saranpaa, P. (1989). The cell walls of Chara aspera Willd. (Charophyta) vegetative cells. Folia Histochemica et Cytobiologica 27(3): 175-182.
Winter, U. & Kirst, G.O. (1992). Turgor pressure regulation in Chara aspera (Charophyta): the role of sucrose accumulation in fertile and sterile plants. Phycologia 31: 240-245, 3 figs, 1 table.

Linking to this page: http://admin.algaebase.org/search/species/detail/?species_id=35574
Citing AlgaeBase
Cite this record as:
M.D. Guiry in Guiry, M.D. & Guiry, G.M. 2022. AlgaeBase. World-wide electronic publication, National University of Ireland, Galway. http://www.algaebase.org; searched on 14 August 2022.