Chara tomentosa
Linnaeus

1753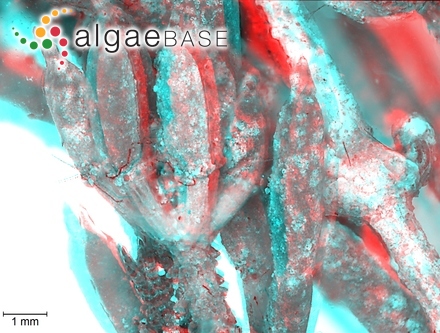 Chara tomentosa Linnaeus Inflated branch end cells. Red-cyan anaglyph. Lough Owel, Ireland. Collected by N.F. Stewart
© C.F.Carter(chris.carter@6cvw.freeuk.com)
Publication details
Chara tomentosa Linnaeus 1753: 1156
Published in: Linnaeus, C. (1753). Species plantarum, exhibentes plantas rite cognitas, ad genera relatas, cum differentiis specificis, nominibus trivialibus, synonymis selectis, locis natalibus, secundum systema sexuale digestas. Vol. 2 pp. [i], 561-1200, [1-30, index], [i, err.]. Holmiae [Stockholm]: Impensis Laurentii Salvii.


Download PDF
Publication date: 1 May 1753
Type species
The type species (lectotype) of the genus Chara is Chara vulgaris Linnaeus.
Status of name
This name is of an entity that is currently accepted taxonomically.
Type information
Type locality: "Hab. in Europae..." (Linnaeus 1753: 1156). Lectotype: LINN 1088.1 (Wood 1960 Notes: The lectotype has no date, no locality and no collector.
Infrageneric classification
Subgenus Chara Section Chara
Origin of species name
Adjective (Latin), tomentose, i.e., thickly and evenly covered with short more or less adpressed curled or curved matted hairs (Stearn 1973).
Heterotypic Synonym(s)
Chara latifolia Willdenow 1809
Chara ceratophylla Wallroth 1815
Chara ceratophylla var. inflatum Wallroth 1833
Chara ceratophylla var. macroptila A.Braun 1835
Chara ceratophylla var. microptila A.Braun 1835
Chara ceratophylla subsp. ceratophylla (Wallroth) A.Braun 1868
Chara disjuncta (O.Nordstedt) Trabut ex Feldmann 1946

General environment
This is a freshwater species.
Common names
(as Chara tomentosa Linnaeus)
Danish: Tyk kransnål (Langangen 2007).
English: Coral Stonewort (Stewart & Church 1992).
Finland: Rödsträfse (Langangen 2007).
Norwegian: Rødkrans (Langangen 2007).
Swedish: Rödsträfse (Tolstoy & Österlund 2003).
Description
In this species the plants are robust, from 10 60 cm long, and the axis is up to 2 mm in diameter. Parts of the plants, especially young plants have a red colour which is an important character for the determination of the species. Plants from deeper water are green. The plants are usually heavily encrusted. The branchlets are 6- 8, short, each with 4- 5 segments. The stem cortex is diplostichous, tylacanthous. The spine cells are solitary or geminate, swollen, and similar to the stipulodes and the bract-cells. The species is dioecious. Gametangia are at the 2-3 lowest branchlet nodes. The oogonia are up to 1.2 mm long. The oospore is brown. The antheridia are very large and up to 1.5 mm in diameter.
Habitat
Chara tomentosa is found both in freshwater and brackish water, the last in the Baltic Sea (red parts on the map). It is found within the salinity area 4.5 7.5 PSU, and it is presumed that lower or higher salinity are natural limits for the distribution of the brackish water form. The species is found in sheltered places, bays, coastal lagoons on soft muddy bottoms down to 3 m depth. In freshwater Chara tomentosa is only found in calcareous waters, Chara- to Potamogeton-lakes. C. tomentosa is a perennial species. It grows down to a depth of 4-5 m, on limerich sediments. Often the species is found in dense, mixed populations with other Chara-lakes species. Fertile plants are normally found in June to September. Ripe, brown oospores are rare, and sexual reproduction is therefore ineffective. This is, in addition to its special habitats one of the factors which limits the distribution of the species.
Detailed distribution with sources
(as Chara tomentosa Linnaeus)
Europe: Austria (Corillion 1957), Baltic Sea (Kontula & Fürhapter 2012), Britain (Bryant & Stewart 2002, Whitton & al. 2003, John, Whitton & Brook 2011), Bulgaria (Temniskova, Stoyneva & Kirjakov 2008), Czech Republic (Kaštovský & al. 2018), Denmark (Langangen 2007), Finland (Langangen et. al. 2002, Langangen 2007), France (Corillion 1957, Anon. 2017), Germany (Ludwig & Schnittler 1996, Mannschreck, Fink & Melzer 2002, Mauch & Schmedtje 2003, Täuscher 2012, Arbeitsgruppe Armleuchteralgen Deutschland 2015, Herbst et al. 2018, Stutz & Mattern (eds) & al. 2018, Täuscher 2020, Täuscher 2020), Ireland (Stewart & Church 1992), Italy (Bazzichelli & Abdelahad 2009), Netherlands (Corillion 1957), Norway (Langangen 2007, Schneider et al. 2015), Poland (Boszke & Astel 2010, Urbaniak & Gabka 2014, Kolada 2021), Romania (Caraus 2017), Russia (Europe) (Romanov & al. 2018, Romanov & al. 2018), Saxony (Doege & al. 2022), Scandinavia (Karlason & al. 2018), Spain (Cambra Sánchez, Álvarez Cobelas & Aboal Sanjurjo 1998), Sweden (Tolstoy & Österlund 2003, Schneider et al. 2015), Switzerland (Corillion 1957, Auderset & Rey-Boissezon 2013).

Africa: Algeria (Corillion 1957), Morocco (Wood & Imahori 1965), Tunisia (Wood & Imahori 1965).

Middle East: Egypt (Saber & al. 2020), Iran (Ahmadi & al. 2012), Turkey (Barinova, Romanov & Solak 2014, Barinova, Romanov & Solak 2014).

Asia: Kazakhstan (Wood & Imahori 1965, Sametova & al. 2022).

(as Chara ceratophylla Wallroth)
Europe: France (Hy 1913), Latvia (Skuja 1928
).

Detailed conservation status with sources
(as Chara tomentosa Linnaeus)
Vulnerable: (Stewart & Church 1992), (Endangered: (Langangen 2021)

Key references
Ahmadi, A., Sheidai, A.M., H. Riahi, H. & Van Raam, J.C. (2012). Some Charophytes (Characeae, Charophyta) from central and western of Iran including Chara kohrangiana species nova. Cryptogamie Algologie 33(4): 359-390. [in English]
Arbeitsgruppe Armleuchteralgen Deutschland (Becker, R., Blindow, I., Doege, A., Franke, T., Gregor, T., Hamann, U., Jäger, D., Jorda, C., Kabus, T., Korsch, H., Korte, E., Kusber, W.-H., Pätzold, Raabe, U., Schubert, H., Teppke, M., van der Weyer K., Wolff, P.) (2015 '2016'). Beschreibung der Characeen-Arten Deutschlands. In: Armleuchteralgen. Die Characeen Deutschlands. (Arbeitsgruppe Characeen Deutschlands Lehrstuhl für Ökologie der Universität Rostock Eds), pp. 209-572. Berlin & Heidelberg: Springer-Verlag.
Auderset, J.D. & Rey-Boissezon, A. (2013). Les Characées de Genève et environs. Distribution et Ecologie. Rapport projet de recherche DGNP-UNIGE Groupe d'Ecologie aqua-tique, Institut Forel et Institut des Sciences l'Environnement, Université de Genève. pp. [i-vii], 1-95, numerous photographs, figures and maps. Genève: Direction Générale de la Nature et du Paysage Rue des Battoirs 7 1205 Genève.
Borisova, O.V. (2015 '2014'). Charales. In: Algae of Ukraine: diversity, nomenclature, taxonomy, ecology and geography. Volume 4: Charophyta. (Tsarenko, P.M., Wasser, S.P. & Nevo, E. Eds), pp. 454-465. Ruggell: Koeltz Scientific Books.
Bryant, J.A. & Stewart, N.F. (2011). Phylum Chlorophyta. Order Charales. In: The freshwater algal flora of the British Isles. An identification guide to freshwater and terrestrial algae. Second edition. (John, D.M., Whitton, B.A. & Brook, A.J. Eds), pp. 742-765. Cambridge: Cambridge University Press.
Caisová, L. & Gabka, M. (2009). Charophytes (Characeae, Charophyta) in the Czech Republic: taxonomy, autecology and distribution. Fottea 9(1): 1-43.
Cirujano, S, Cambra, J., Sánchez Castillo, P.M., Meco, A. & Flor Arnau, N. (2008). Flora ibérica algas continentales. Carófitos (Characeae). pp. [1]-132, 125 figs. Madrid: Real Jardín Botánico.
Langangen, A. (2007). Charophytes of the Nordic countries. pp. [1]-102, many figs and maps. Oslo: Saeculum ANS.
Mannschreck, B., Fink, T. & Melzer, A. (2002). Biosystematics of selected Chara species (Charophyta) using amplified fragment length polymorphism. Phycologia 41: 657-666.
Moore, J.A. (1986). Charophytes of Great Britain and Ireland. B.S.B.I. Handbook No. 5. Illustrated by Margaret Tebbs. Distribution maps prepared by Dorothy Green. pp. [i-ii], 1-140, 26 figs, 17 maps. London: Botanical Society of the British Isles.
Muller, S, D., Rhazi, L. & Soulie-Märsche, I. (2017). Diversity and distribution of Characeae in the Maghreb (Algeria, Morocco, Tunisia). Crytogamie Algologie 38(3): 201-251.
Ruprecht, F.J. (1846). Symbolae ad historiam et geographiam plantarum Rossicarum. pp. [1]-242, 6 pls. Petropoli [St Petersburg]: typis et impensis academinae imperialis scientiarum.
Saber, A.A, Gontcharov, A.A., Nikulin, A.Y., Nikulin, V.Y., Rayan, W.A. & Cantonati, M. (2021). Integrative taxonomic, ecological and genotyping study of charophyte populations from the Egyptian Western-Desert oases and Sinai Peninsula. Plants 10(1157): 1-32, 13 figs, 2 tables.
Schneider, S.C., Rodrigues, A., Moe, T.F. & Ballot, A. (2015). DNA barcoding the genus Chara: molecular evidence recovers fewer taxa than the classical morphological approach. Journal of Phycology 51(2): 367-380.
Schubert, H & Blindow, I. (2004). Charophytes of the Baltic Sea. pp. [i-iv], 1-326, + pls I-VI. Ruggell: A.R.G. Gantner Verlag Kommanditgesellschaft.
Spencer, M.A., Irvine, L.M. & Jarvis, C.E. (2009). Typification of Linnaean names relevant to algal nomenclature. Taxon 58(1): 237-260.
Thuillier, J.L. (Ann VII [1799]). Flore des environs de Paris, ou, Distribution méthodique des plantes qui y croissent naturellement, Faite d'après le systême de Linnée: avec le nom et la description de chacune et latin et in françoise; l'indications de leur lieu natal, de leur durée, du temps de leur florasion, de la coluleur de leurs fleurs, et al citation de Auteurs qui les ont le mieux décrites ou en ont donées les meilleures figures. Nouvelle édition: revuew corrigée et considérablement augumentée [éd. 2]. pp. 1-595. Paris: Chez l'Auteur et H.L. Perronneau.
Urbaniak, J. & Gabka, M. (2014). Polish Charophytes. An illustrated guide to identification. pp. [1]-120, incl. 34 pls. Wroclaw: Uniwersytet Przyrodniczy we Wroclawiu.
Willdenow, C.L. (1805). Du genre nommé Chara. Mémoires de L'Académie Royale des Sciences et Belles-Lettres depuis L'Avénement de Fréderic Guillaume III au Trône 1805: 79-90, pls I, II.
Created: 11 April 2002 by M.D. Guiry
Verified by: 29 June 2021 by M.D. Guiry
Accesses: This record has been accessed by users 2610 times since it was created.
Verification of data
Users are responsible for verifying the accuracy of information before use, as noted on the website Content page.
References
(Please note: only references with the binomials in the title are included. The information is from the Literature database.)
Henricson, C., Sandberg-Kilpi, E. & Munsterhjelm, R. (2006). Experimental studies on the impact of turbulence, turbidity and sedimentation on Chara tomentosa L. . Cryptogamie, Algologie 27(4): 419-434.
Kunachowicz, A., Luchniak, P., Olszewska, M.J. & Sakowicz, T. (2001). Comparitave karyology, DNA methylation and restriction pattern analysis of male and female plants of the dioecious alga Chara tomentosa (Charophyceae). European Journal of Phycology 36: 29-34.
Libbert, E. & Walter, T. (1985). Photosynthetic production of a brackish water community of Chara tomentosa L. and its dependence on environmental conditions. Int. Rev. Ges. Hydrobiol. 70: 359-368.

Linking to this page: http://admin.algaebase.org/search/species/detail/?species_id=35589
Citing AlgaeBase
Cite this record as:
M.D. Guiry in Guiry, M.D. & Guiry, G.M. 2022. AlgaeBase. World-wide electronic publication, National University of Ireland, Galway. http://www.algaebase.org; searched on 05 October 2022.