Nitella mucronata (A.Braun) Miquel 1840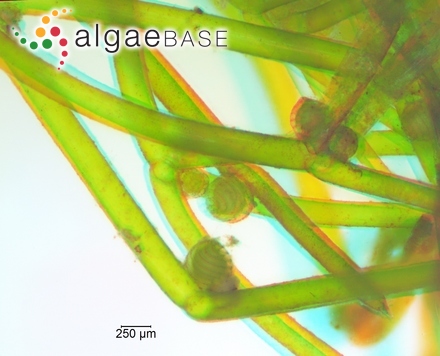 Nitella mucronata (A.Braun) Miquel Red-cyan anaglyph. Castor Backwater, River Nene, Northamptonshire (as VC32), UK. Collected by Peter Kirby and Sarah Lambert
© C.F.Carter (chris.carter@6cvw.freeuk,com)
Publication details
Nitella mucronata (A.Braun) Miquel in H.C.Hall 1840: 428
Published in: Hall, H.C. (1840). Flora Belgii septentrionalis sive Florae Batavae compendium Vol. II, pars II continens lichenes et algas. pp. i-xvi, 1-477, [1-4]. Te Amsterdam: bij J.C. Sepp.
Type species
The type species (lectotype) of the genus Nitella is Nitella opaca (C.Agardh ex Bruzelius) C.Agardh.
Status of name
This name is of an entity that is currently accepted taxonomically.
Basionym
Chara mucronata A.Braun
Type information
Syntpe locality: "Hab. apud nos rara. — Helv. — Berol." [Switzerland; Berlin] (Braun 1834: 351). Neotype: Jack; Oktober 1858; NY Braun, Rabenhorst & Stizenberger, Characeen Eur. 30 (Wood 1965: 504). Notes: Neotype locality: "Salem" [Schleswig-Holstein, Germany?].
Infrageneric classification
Subgenus Tieffallania Section Tieffallania
Origin of species name
Adjective (Latin), ending in a short, sharp point.
Homotypic Synonym(s)
Chara mucronata A.Braun 1834
Nitella furcata subsp. mucronata (A.Braun) R.D.Wood 1965

Heterotypic Synonym(s)
Nitella mucronata var. virgata (J.Wallman) A.Braun
Chara mucronata var. heteromorpha A.Braun 1835
Chara barbieri G.Balsamo-Crivelli 1840
Nitella flabellata Kützing 1843
Nitella exilis A.Braun 1847
Nitella norvegica J.H.Wallman 1853
Nitella virgata A.Braun ex J.Wallman 1853
Nitella mucronata var. robustior Leonhardi 1864
Nitella mucronata var. tenuior H.F.von Leonhardi 1864
Nitella mucronata var. robustior A.Braun 1868
Nitella mucronata var. tenuior A.Braun 1868
Nitella mucronata f. heteromorpha Wahlstedt 1875
Nitella mucronata f. homomorpha Wahlstedt 1875
Nitella mucronata f. robustior Wahlstedt 1875
Nitella mucronata f. tenuior Wahlstedt 1875
Nitella mucronata f. pusilla E.C.Teodoresco 1907
Nitella mucronata f. budensis N.Filarszky 1930
Nitella mucronata f. tenuior (A.Braun) Feldmann 1946
Nitella mucronata f. virgata (J.Wallman) G.Feldmann 1946
Nitella mucronata f. robustior (A.Braun) G.Feldmann 1946
Nitella mucronata var. koreana K.Imahori & D.Choe 1963

Taxonomic notes
Combination also proposed by Cosson & Germain de Saint-Pierre. Fl. Paris: 683. Atlas Fl. Paris: pl. XL: D. 1845 - (1 Dec 2014) - Salvador Valenzuela Miranda
Conservational notes
Sweden: EN (Gärdenfors 2005), Norway VU (Kålås et al. 2006). In Norway this species has been found in 9 localities after 1990. In Sweden it is known from 11 recent localities (Gärdenfors 2005). In Finland the species has not been found. The situation in Denmark is unknown. Proposed red list status for the whole area is EN (endangered). - (14 Jan 2012) -
General environment
This is a freshwater species.
Common names
(as Nitella mucronata (A.Braun) Miquel)
Danish: Brodspidset glanstråd (Langangen 2007).
English: Pointed Stonewort (Stewart & Church 1992).
Norwegian: Broddglattkrans (Langangen 2007).
Swedish: Uddslinke (Langangen 2007).
Description
The plants are 10-30 cm high and dark green. The axis is between 0.5 -1mm in diameter. The fertile branchlets are divided two or three times, and the sterile branchlets are divided one or two times. The dactyls are 2 (rarely 3) celled, mucronate and have acute end-cells. The species is monoecious. The gametangia are conjoined. The oogonia are solitary or geminate, and often absent from the lowest branchlet nodes. The oogonia are less than 500 m long. The oospores are dark brown and have reticulate membrane and prominent ridges. The antheridia are 200-300 m in diameter.
Habitat
Nitella mucronata has been found in puddles, ditches and lakes. The water is normally more or less alkaline, oligotrophic to mesotrophic. It can also be found in humic alkaline waters and in brackish water. The species seems to benefit from dredging of canals and ditches. N. mucronata is a perennial species and it is green during the winter. Normally it has fertile plant from July and until September. Ripe oospores, which are dark brown are not common. According to Hasslow (1931) the species is a late-summer to autumn species.
Detailed distribution with sources (Click to Load)

Detailed conservation status with sources
(as Nitella mucronata (A.Braun) Miquel)
Extinct: (Stewart & Church 1992), (Least Concern: (Stewart & Church 1992), (Vulnerable: (Stewart & Church 1992), (Near Threatened: (Langangen 2021)

Key references
Arbeitsgruppe Armleuchteralgen Deutschland (Becker, R., Blindow, I., Doege, A., Franke, T., Gregor, T., Hamann, U., Jäger, D., Jorda, C., Kabus, T., Korsch, H., Korte, E., Kusber, W.-H., Pätzold, Raabe, U., Schubert, H., Teppke, M., van der Weyer K., Wolff, P.) (2015 '2016'). Beschreibung der Characeen-Arten Deutschlands. In: Armleuchteralgen. Die Characeen Deutschlands. (Arbeitsgruppe Characeen Deutschlands Lehrstuhl für Ökologie der Universität Rostock Eds), pp. 209-572. Berlin & Heidelberg: Springer-Verlag.
Auderset, J.D. & Rey-Boissezon, A. (2013). Les Characées de Genève et environs. Distribution et Ecologie. Rapport projet de recherche DGNP-UNIGE Groupe d'Ecologie aqua-tique, Institut Forel et Institut des Sciences l'Environnement, Université de Genève. pp. [i-vii], 1-95, numerous photographs, figures and maps. Genève: Direction Générale de la Nature et du Paysage Rue des Battoirs 7 1205 Genève.
Borisova, O.V. (2015 '2014'). Charales. In: Algae of Ukraine: diversity, nomenclature, taxonomy, ecology and geography. Volume 4: Charophyta. (Tsarenko, P.M., Wasser, S.P. & Nevo, E. Eds), pp. 454-465. Ruggell: Koeltz Scientific Books.
Bryant, J.A. & Stewart, N.F. (2011). Phylum Chlorophyta. Order Charales. In: The freshwater algal flora of the British Isles. An identification guide to freshwater and terrestrial algae. Second edition. (John, D.M., Whitton, B.A. & Brook, A.J. Eds), pp. 742-765. Cambridge: Cambridge University Press.
Bueno, N.C., Prado, J.F., Meurer, T. & Bicudo, C.E. de M. (2016). Nitella (Streptophyta, Characeae) from southern Brazil. Iheringia Serie Botânica 71(2): 132-154, 12 figs.
Caisová, L. & Gabka, M. (2009). Charophytes (Characeae, Charophyta) in the Czech Republic: taxonomy, autecology and distribution. Fottea 9(1): 1-43.
Hirose, H., Yamagishi, T. & Akiyama, M. (1977). Illustrations of the Japanese fresh-water algae. pp. [8 col. pls], [1]-933, 244 pls in text. Tokyo: Uchida Rokakuho Publishing Co., Ltd. [in Japanese]
Hy, F. (1913). Les Characées de France. Bulletin de la Société Botanique de France 60 (Mémoires 26): 1-47, pls. I-III.
Kobayasi, H. (1968). A survey of the fresh water diatoms in the vicinity of Tokyo. Japanese Journal of Botany 20(1): 93-122.
Moore, J.A. (1986). Charophytes of Great Britain and Ireland. B.S.B.I. Handbook No. 5. Illustrated by Margaret Tebbs. Distribution maps prepared by Dorothy Green. pp. [i-ii], 1-140, 26 figs, 17 maps. London: Botanical Society of the British Isles.
Muller, S, D., Rhazi, L. & Soulie-Märsche, I. (2017). Diversity and distribution of Characeae in the Maghreb (Algeria, Morocco, Tunisia). Crytogamie Algologie 38(3): 201-251.
Urbaniak, J. & Gabka, M. (2014). Polish Charophytes. An illustrated guide to identification. pp. [1]-120, incl. 34 pls. Wroclaw: Uniwersytet Przyrodniczy we Wroclawiu.
Watterlot, A. & Prey, T. (2016). Inventaire des Characées sur le territoire picard (Aisne, Oise et Somme): Évaluation patrimoniale. Version No. 2, décembre 2016. pp. [1]-30, Annexe, 31-56 [Maps]. Bailleul: Centre régional de phytosociologie. Conservatoire botanique national de Bailleul.
Created: 11 April 2002 by M.D. Guiry
Verified by: 11 May 2020 by M.D. Guiry
Accesses: This record has been accessed by users 2326 times since it was created.
Verification of data
Users are responsible for verifying the accuracy of information before use, as noted on the website Content page.
References
(Please note: only references with the binomials in the title are included. The information is from the Literature database.)
Bueno, N.C. & Bicudo, C.E.M. (2006). Temporal variation of Nitella furcata subsp. mucronata var. mucronata f. oligospira (Charophyceae) in the Ninféias pond, São Paulo State, southeast Brazil. Acta Botanica Brasilica 20(1): 1-11.
Bueno, N.C. & Bicudo, C.E.M. (2008). Biomass and chemical composition of Nitella furcata subsp. mucronata var. mucronata f. oligospira (A. Braun) R. D. Wood (Chlorophyta, Characeae) in the littoral region of Ninféias Pond, São Paulo, Southeast Brazil. Revista Brasileira de Botanica 31(3): 499-505.
Groves, J. & Bullock-Webster, G.R. (1917). Nitella mucronata in Glocestershire. J.Bot. LV: 323-324.
Olsen, S. (1949). Ollegitime names in Nitella mucronata (Braun) Miquel.. Bot. Not. 1949(4): 269-276.

Linking to this page: http://admin.algaebase.org/search/species/detail/?species_id=35597
Citing AlgaeBase
Cite this record as:
M.D. Guiry in Guiry, M.D. & Guiry, G.M. 2022. AlgaeBase. World-wide electronic publication, National University of Ireland, Galway. http://www.algaebase.org; searched on 26 September 2022.